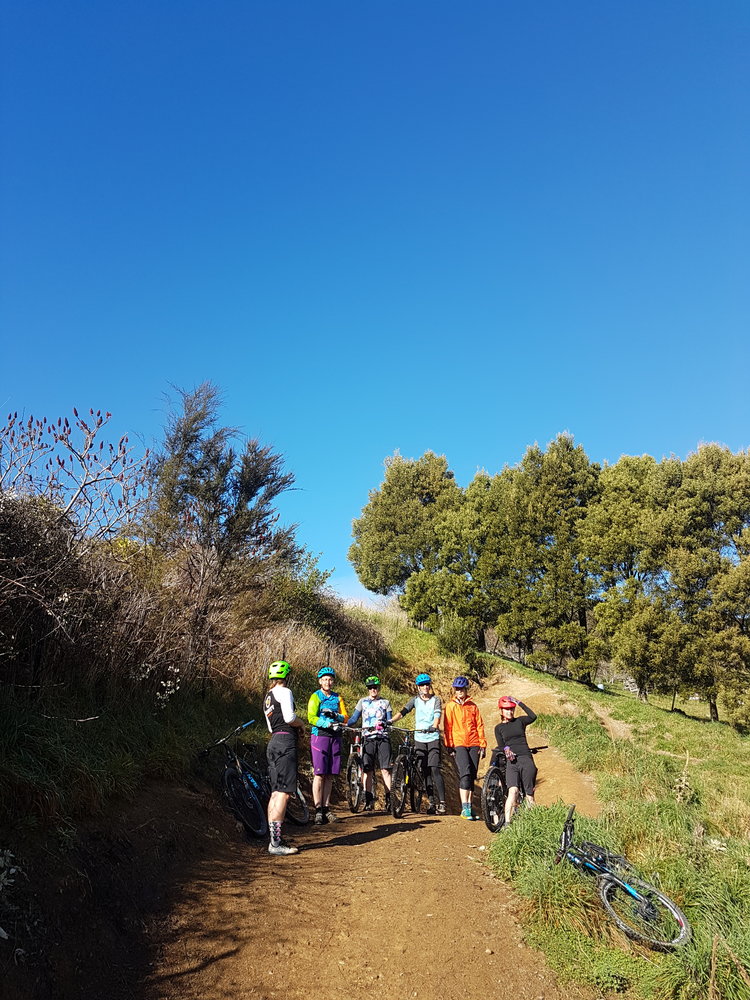 Alarm goes off at 7am and I have an hour and half to eat breakfast, and get ready for the 9am session. At 8:30am I start the car and head to Gravity Nelson's private mountain bike track called "The Field of Dreams" in Hira. I unpack my bike and do my own checks before the customers arrive. I check my first aid kit, tool kit, and rest of my pack to make sure I have sunscreen, water, a snack, and coaching cones.
Another car pulls up the drive, with big smiles through the wind shield and bikes strapped on the back. I point to where they should park for the day, and pull out the liability waivers and trip sheet to confirm information and the plan for the session. We make small talk as they unpack their gear put on their knee pads, elbow pads and hopefully full face helmets. I casually ask about their experience mountain biking so I know what to expect before they even get on their bikes.
We do the bike checks, which usually surprises people as most just grab their bike and go without checking to make sure their wheels aren't going to fall off mid-ride…
We cruise down through the gates and fields until we reach the bottom of the track. People get so excited at the first view of the Field of Dreams. Then the riding and teaching really begins. Every session is slightly different, even though we cover off the same basics at the start. For this group, they seem experienced, so I want to see what they can do on a full practice run of the trail before beginning any coaching. We push the bikes out as I explain certain parts of the trail to be aware of. They roll down looking solid but body position is too high and stiff so we have a quick debrief about the "ready/attack" position. Then they go for another practice run to try this tip. From there, we move onto cornering; a typical area of frustration for most mountain bikers. There are so many tiny adjustments that happen in the corner which can either end up with you sailing through smoothly, ending up at a dead stop in the middle of the berm and taking a not-so-planned seat on the ground.
After practicing a tighter right hand corner, we take an interlude to work on some pumping before working on a flatter, wider left hand corner. I demonstrate every feature and skill I want them to work on, which is actually so beneficial for my own riding. The demos have to be as perfect as I can make them, which puts on a bit of pressure, but each time gets better and better.
They're into the swing of things now and there is less need for explanation, and more need for practice. It's vital to apply those skills directly to the trail. It's easier for riders that are new to the sport because usually they don't have any bad habits to try and break. The more experienced riders have a harder time changing the way they've ridden bikes for the past 10-20 years.
Practice run after practice run, they are looking better and more confident than before. As each one goes, I ask the other to visualise themselves going through the corner with the techniques we've been talking about. Before starting that first pedal stroke, tell yourself "I got this. I can do it", then shut the brain off and ride. Visualisation and positive self-talk have a huge impact on how you ride. If you try to think about everything at once, you won't be able to do anything right. If you haven't watched Paul the Punter and Tracy Hannah's video, here is the link. Tracy's best piece of advice for Paul's riding, is that he sings a song on the way down so he's not having to think so hard about every little thing he's doing on the bike.
We take a quick water and snack break before doing some full runs to tie all the skills together. This usually brings stories of mountain bike travels, mishaps and revelations. It's a beautiful day as we gaze at the valley hills and the small houses tucked up in the native forests. They feel good and I've loved watching the improvement.
We have half an hour left, and they still seem to have lots of energy. We do some front and rear wheel lifting before finishing off with some drop progression. They get up to the 4th highest one, but decide to leave the 5th and 6th for another time. We always try to end on a good note, and a safe note.
We chat about what trails would be best to practice their new skills on, and what a follow-up session would look like in 4-6 weeks time. They write some feedback on the trip sheet for me.
It's almost 1pm. Time for lunch. I love the feeling after a coaching session – even as a coach leading the session, I remind myself of how to ride my bike better. Also I'm happy to know that at least a couple other mountain bikers will be safer and more confident the next time they go for a ride.