"After School" Youth Mountain Biking Coaching
 Along with our private bespoke coaching sessions, Gravity runs a variety of group MTB coaching programs for groups of adults and youths. Offered at a more affordable rate, these sessions are slightly less personalised due to the larger participant to coach ratio. However these sessions are also a great way for riders to meet other people to ride with, and to see many different styles of riding which is great for learning.
The majority of our youth mountain bike coaching programs start in the second week of a school term and run for 8-10 sessions per term.  Kids sign-up for a full term for $320 and are placed in groups based on their age, ability, and availability during the week or weekend.  Slots are available Monday-Friday from 4:15-6:16pm, and in the weekends at 10-12am or 2-4pm.
Please feel free to email us if you would like to be put on the mailing list for the next term of the coaching program.
Mountain Bike Coaching sessions begin in the second week of any new school term so book now so you don't miss out.  Once we receive your booking we will contact you before the term starts with confirmation of groups and times. 
TERM ONE 2024, book now via the placeholder link, as always days and slots and groups will be determined before the end of the school holidays, and we will start in the second week of term:  Book online now!
We also have popular School Holiday Downhill and Enduro Camps for both Intermediate and Advanced riders which are open to take kids from around the country, these are available most school holidays, get in touch if you are interested in learning more about these.   Our Gravity Day Care sessions at the Field of Dreams and our Gravity Camps on Nelson's advanced trails are an amazing way for kids to develop their skills significantly.
Here are some of our most popular youth group programs:
Gravity Development Squad (YOUTH)
Gravity runs weekly after-school and weekend mountain bike coaching for prep- and college-aged students during each school Term. Each session is two hours long. There are multiple groups and slots during the week and weekend for a wide variety of levels of riders. What defines Gravity Development Squad kids is their desire to improve their riding, our coaches are highly experienced and work hard to improve and progress each kid's skills throughout the year. The topics vary depending on the ability, and focus of the group. Examples of topics include: cornering on flow and techy terrain, pumping and jumping, line choice, and maneuvers such as wheelies, manuals and endos. We even run over the Winter term, although students must have a bright helmet light and warm clothes. (Winter riding in Nelson is actually so good). We also have a small group of Expert youth riders, who run with a more flexible schedule (1 or 2 sessions per month) and longer sessions (3 hours).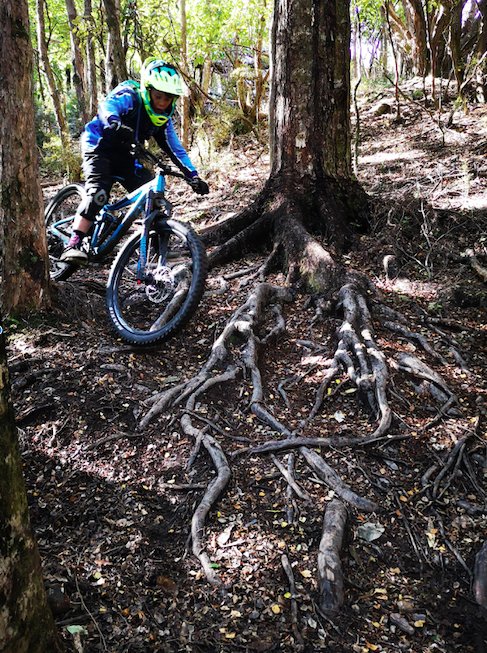 Gravity Grom Gang (KIDS – ages 8-12)
We also run a highly energetic session aimed at younger kids (kids just coming off the excellent Krankin'Kids program) who are keen to race and motivated to develop their skills, generally these kids have already had a few terms of coaching with us and are regularly participating in local  races. This group will be a weekly 2-hr program during term, introducing the kids to new skills and different trails, but the locations are more friendly to shorter legs. During Winter these sessions are held in the weekend so no night riding is required.  Please get in touch if this is something your young one is looking for.
You can check out some of our Gravity Grom Gang in action in this awesome video:
Gravity Super Groms (Kids – ages 7-10)
New in Summer 2020 is our Super Groms program for even smaller kids who are new to Gravity coaching.   These kids are fired up to improve their skills but are just starting into racing or perhaps thinking about racing in the future. The emphasis is on safe progression of core skills so they can safely participate in races and steadily improve the difficulty of the trails they ride.  By developing and locking in these base skills with correct technique these kids will be in an excellent position to rapidly "level up" their riding.
Gravity Racer Gurlz
We are excited to have a dedicated coaching group for Girls who are mountain bike racing or steadily progressing their skills.  This small group of gutsy girls are working hard with our coaches to improve their safety, speed, and confidence while racing.  Spaces are available any term that we can get 4+ girls to participate.
School Holiday "Gravity Camps" (YOUTH)
Our "Gravity Development Squad" after-school program runs the same time as the school terms, so what happens over the holidays? You guessed it: MORE RIDING! To keep the kids active over the holidays, we run a series of one day "camps" which involve a longer day of riding (usually 4-6 hours), starting with a shuttle to the top of the hill! Then we work our way down the trail sessioning sections to work on line choice, techniques, and trail familiarity.  Oftentimes we will focus on tracks that will feature in upcoming bike races, and we regularly have guest coaches who are National or International level sponsored racers.  We frequently incorporate high tech "Freelap" timing into sessions to help the kids more accurately gauge their progress and improvement. The camps can be done by kids from around the country and don't require that the kids are getting coaching from Gravity during the term.  Camps are available at a variety of levels and dates can vary so please get in touch for more details. These camps require each kid to bring lunch, and in the summer months, togs if they are keen to jump in the river after the ride!  You can check out photos and videos of a recent DH camp below.
If you would like to know more information or register for any of these courses, please give us a call at 03 545 8484 or 027 766 6032 or send us an email to info@gravitynelson.co.nz.