Gravity Nelson Mountain Bike Shuttles
Mountain bike shuttles: Maximise the fun!
Nelson is famous for the length of its descents, and somewhat infamous for the brutality of the uphills, with many climbs exceeding 600m vertical.  Locals and out-of-towners alike wanting to make the most of the trail network can get in touch about Gravity's shuttle services. As one of only two shuttle concessionaires in the region, Gravity gives you exclusive access to a wide variety of Nelson's trails without the pain of the uphills.  We provide shuttle services for private groups, public groups, and "casual shuttle days" (the later can use ten-trip shuttle tickets to save some money). We have concessions to operate shuttles on a wide variety of DOC, NCC, and Ngati Koata land as well as some private facilities such as the Cable Bay Adventure Park and The Gorge. If you would like to book a private shuttle click on BOOK NOW on the top right of this webpage.  If you are interested in checking the availability of upcoming "Casual Shuttle Days", "Ride-along Seats", and "Standby Seats" please click HERE.
Please note that a Nelson Mountain Bike club membership or short-term riding permit is required for riding or shuttling on Ngati Koata owned land.
Ten-trip shuttle tickets can be purchased in the shop or from the shuttle driver for $200 and can be used on our "casual shuttle days", refer below for more details..
As of January 2019 Gravity Nelson is able to Shuttle in almost all trail locations around Nelson. Thanks to the generous land owners, Ngati Koata and land managers, Tasman Pine Forests, the Nelson Mountain Bike Club, Cable Bay Adventure Park and the brilliant Nelson City Council and Tasman District Council who are strong supporters of mountain biking in the region.
Popular trails and locations include;
Fringed DH and Te Ara Koa from Fringed hill summit (798m)
Involution in the Marsden Valley (728m)
629, Peaking Ridge, Crankenstein and Mutley's in the Maitai valley (629m)
Sharlands trails- Maitai face, Aorere, Keyboard Warrior, Mr. Chomper, Kaka DH, Putakari, Broken Axe and Supplejack.
Codgers trails (Please contact us for details around this location)
Wairoa Gorge
The Rameka trail.
You can refer the table below for some ideas on the grades of trails in the main riding areas around the region and plan your shuttle day and riding progressions.
Gravity Nelson Private Shuttles
Gravity Nelson's private shuttles give you full control over where and when we go.  Half-day shuttles usually start at 10am or 2pm, and full-day shuttles at 10am.
$75 a person for a half day (3 runs)
$125 a person for a full day (5 runs)
Our pricing for private shuttles is based on a $25 per run per person rate with a minimum of four booked in the shuttle. There is a 10% discount for Nelson Mountain Bike club members. A Tasman Pine Forests/Ngati Koata riding permit (included in the club membership or purchased separately via the club website) is required for some trails. We usually tailor the days riding to the trail conditions and the groups riding ability.  Click on the BOOK NOW button on the top right corner of this webpage to lock in a date.
Gravity Nelson Shuttle Pricing (10 trip card)
Mountain bike riders wanting to save a bit of money on shuttle runs can purchase Gravity Nelson Shuttle Cards from the bike shop or the shuttle driver.  These cards also make great gifts for the mountain bikers in your life.  The cards can be used on "Casual Shuttle Days", "Ride-along Seats", and "Standby Seats" but cannot be used to book private shuttles.
A 10-trip card costs $200
20-trip cards cost  $375
50 trip cards cost $700
Note that these prices are heavily discounted so there is no club discount on these cards.  These cards can be used on following shuttle options:
"Casual Shuttle Days"
We run regular "Casual Shuttle Days" from the main mountain bike hubs in Nelson, refer to our Upcoming Calendar of Shuttles for specific dates, locations, times and details.   You can do as few or as many shuttles as you want and shuttles fill on a first-come, first-served queue basis.  One run is one click on your shuttle card.  If you don't yet have a shuttle card you can purchase one from the driver or pay $25 per uplift.  If you are interested in a particular location or date for a casual shuttle day you can contact us and make a suggestion, we can look at vehicle availability and see if we can add an extra day to the schedule.
"Ride-along Seats"
When Private Shuttles are booked and there are still spare seats we open those seats up for booking to the general public. Refer to our Upcoming Calendar of Shuttles for specific dates, locations, times and details of "Ride-along Seats" available in the near future.  The Private group that has initiated the shuttle will be in charge of choosing timing and location, but you can jump on and tag along for as many uplifts as you want, one run is one click on your shuttle card, or you can pay $25 per run.
 "Standby Seats"
Heading out for a pedal and spotted our shuttle vehicle out and about? Give us a wave and you can grab a "Standby Seat" if we have a spare spot.  You can use a click from your Shuttle Card for each uplift or pay $25 per run.  The driver will be able to tell you where we are going and you can decide if sitting in the shuttle vehicle sounds better than slogging up a big climb (Hint: it is!).  Make sure to pack your Gravity Shuttle Card every time you head out for a pedal.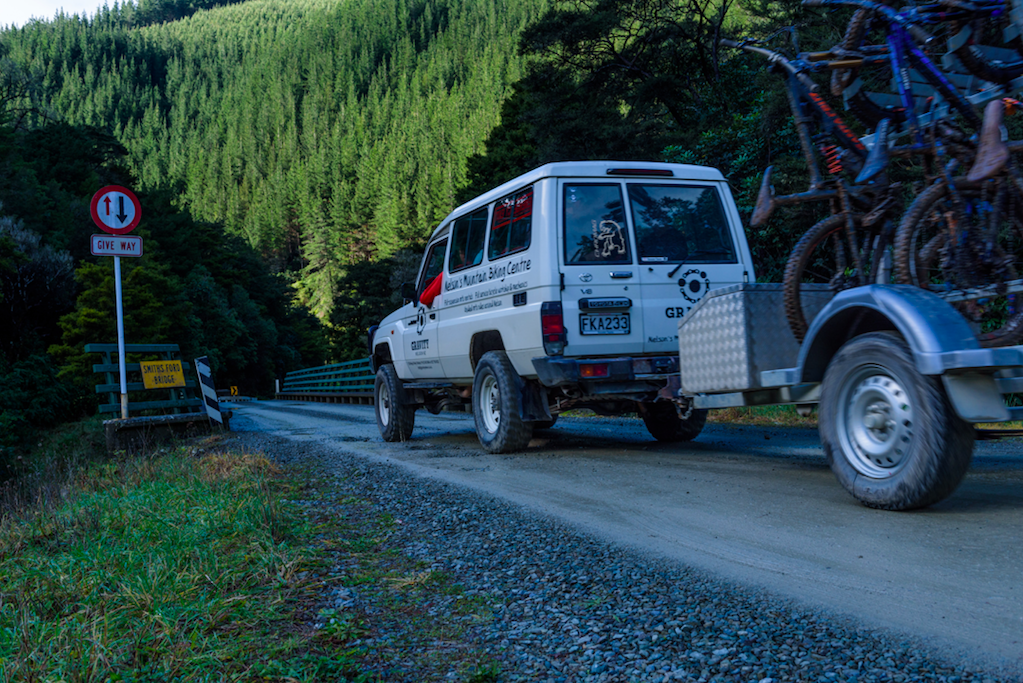 Shuttle Vehicles:
Gravity Nelson currently has two commercial shuttle vehicles:
i. Ford Ranger XLT that very comfortably seats 4 riders plus a driver, and can carry up to 12 bikes (or 6 bikes and a mountain of luggage).
ii. Toyota Landcruiser long body troop carrier that seats 9 riders and can tow a trailer for all the bikes and luggage you need to take.
Please don't hesitate to contact Gravity with your dream riding itinerary and we can help to pull together the best possible combination of services to meet your needs.