Shuttling around Nelson: Spoilt for Choice!
With over 400kms of world-class single-track mountain biking trails within a 45 minute drive of the centre of Nelson you are certainly spoilt for choice, and this can be a bit overwhelming at first.  Never fear, the experts at Gravity Nelson can help you choose the trails most appropriate for your group.to maximise their mountain biking fun.  When you book a Private Shuttle through our BOOK NOW button on the top right corner of the web page you will be given ample opportunity to select trails you might want to do, and send us notes or questions about our shuttles.
Trailforks can be a helpful tool to find more details, descriptions, photos and videos of the trails in the region.
You can also check-out our "Nelson Trail Progressions" table below to compare the difficulty of different trails in the Codgers, Sharlands, Gorge, and Cable Bay Adventure Park areas.  This can be helpful if you have ridden in Nelson before and know which trails you are comfortable on, and you can find others in the region at a similar level.
Table of Contents: Recommended Shuttle Itineraries by Level
1. Beginner/Intermediate Single Day Shuttle
2. Beginner (grade 3) – Multi Day
3. Intermediate (grade 4) – Half-Day or One Day
4. Advanced (grade 5) – One Day
5. Advanced – Multi Day
If you click the links above or scroll further down the page we have also provided some Recommended One-day and Multi-day shuttle itineraries.  Also note that Gravity has expert mountain bike guides and coaches who can accompany you on a shuttle day and show you the best possible trails, improve your skills, and recommend new trails to try once they have seen you ride. Feeling inspired? At any time you can hit BOOK NOW on the top right of this page and book a shuttle experience with Gravity Nelson.
Beginner/Intermediate Single Day Shuttle
Codgers Laps: A one day intermediate (grade 4) shuttle would be best start in Codgers Mountain Bike Park. P51 is a great track to warm up on, its likely the easiest grade 4 in Codgers. After this we will head up to Firball skid. From this skid there is direct access to Hulk 'n Hogan onto Crazy horse, or IV line onto Tu Meke, or you can bike the remaining 800m to Firball trig. Firball trig is the highest point in the Codgers MTB network at 351m above sea level. It has stunning 360 degree views across Nelson and into the hills beyond. From this high point there is the option to ride Firball (a classic) or Koata Whetu. Each shuttle run here saves you around 250-300m vertical of biking uphill.
Silvan Mountain Bike Park: Access to this fantastic mountain bike park was granted mid-2022, situated only 15 minutes drive from the Nelson CBD and with stunning 360 degree views of the Nelson bay and ranges this is an iconic The park features a wide range of grades of trails with a 600m+ vertical climb to the highest point.  Beginners and Intermediates alike will find a wide range of trails to ride with digger built flow, many features, and some tight corners.  Recently logged with the intention of replanting in native trees Gravity is thrilled to support the growth of this park and introduce riders to it. Depending on level of experience riders have multiple options for descending from the top and your driver can make suggestions as to warm-up descents and subsequently try other trails.   Intermediate riders might want to do several laps in the Silvan Mountain Bike Park and then head on over to Involution for an epic 650m vertical descent on narrowers rocky and rooty trails through beautiful native bush.
Beginner (grade 3) – Multi Day
Beginners interested in several days of shuttling around the Nelson region could do well to make Day One be Codgers Laps (the above rides in Codgers mountain bike park) but then look on Day Two Kaiteriteri Krusing – to making a day trip out to Kaiteriteri mountain bike park.  Our shuttle vehicle can take you and your bike out to the park for a warm up pedal on some of the easiest trails like Cruise Control and Easy Rider and then shuttle your group to just behind the park leaving just a short pedal to the top of the park and access to ride down a huge range of great trails including Jaws, Big Airs, and Skull Duggery.  Each shuttle run here saves you over 250m vertical of biking uphill!
Day Three would probably be best spent shuttling at the Cable Bay Adventure Park or the Silvan Mountain Bike Park. In CBAP we can shuttle several grade three trails there including Stinger which is a real favorite and worth doing several times, as well as partake in other, off-the-bike activities like Paint-ball, ziplining, archery, quad bike riding and much more.  At Silvan Mountain Bike Park trails like Alpha and Omega provide a great opportunity to flow down the trial over fun low consequence features.
Intermediate (grade 4) – Half-Day or One Day
Option One: Close to town-
Warm-up into Involution with a shuttle 85% of the way up to the top and a quick run up Widdershins, a gentle climbing track that takes you to the very top of  Involution. With 500m of vertical descent in almost 4kms of riding this is a fun trail that most intermediate riders can achieve, and it has an added advantage of being rideable even when quite wet. Here is a small preview video of the top part of Involution on one of the Gravity Nelson rental/demo ebikes:
Now that you are warmed up, and providing Involution wasn't too difficult it is time to head over to Fringed Hill and drive up to the very top for epic views across Nelson Bays and to the start of Te Ara Koa, with 700m of vertical descent over 5kms of hand built trail, this ride is EPIC, solid high-grade 4 the whole way with perhaps one or two "above grade" features that now have safer ride-arounds.  At the end of the run make a decision about whether you want to do that one again, or have a bit of a chat about whether you want to finish off with something else at around this level (trails like Wiggles-Waggles, Mr Chompa and Loam Ranger are all good options: note closed for forestry at the moment), or whether its time to hit cruise control and tackle some shorter easier runs in Codgers, like Firball.  You can check out some of these trails in the video below from a scouting run on one of our rental Ebikes:
Option Two: Intro to the Gorge-
Anyone who is comfortable on New Zealand Grade Four trails can have an incredible day at The Gorge, the "legend" of The Gorge is that it is ultra hard-core, but the reality is that there are plenty of trails that are awesome fun for Grade four riders, check out the "Trail Progressions Table" above and see how many great trails you will be able to enjoy at your level.  We do recommend hitting some other Nelson trails just to double check you are on track, and perhaps warm up, but once you have conquered trails like Involution and Te Ara Koa then you can be confident that you will be able to tackle a wide variety of gorge trails.  The Gorge has now provided "flows" from top to bottom with recommended progressions of trails and in our experience these are pretty bang on, so grab the helpful "flows" sheet when you get to the gorge and follow their advice for a good time.  Gravity can also shuttle at The Gorge, so don't hesitate to ask us about that option.
Intermediate (grade 4) – Multi Day
Grade four riders wanting to string together a couple of days of great riding in the Nelson region should look Day One:- Option One: Close to town- followed by Day Two:- Option Two: Intro to the Gorge- and then look at adding Day Three:-  Full-day Rameka Adventure.  The Rameka track and the tracks below it offer fantastic grade 4 riding in a highly atmospheric part of the country with spectacular views and nature throughout.  The shuttle drive is quite long, but well worth it, and once the first descent has been completed it is possible to repeat the lower half of the trail several times with shuttle uplifts.  Alternatively we can drive around to Kaiteriteri Mountain Bike park and do a couple of shuttles there on our way back to Nelson.   If riders are still keen for another day of riding in the region then we can head over for Day Four:- to the Cable Bay Adventure Park to shuttle some of their awesome grade 3 & 4 trails (Stinger, Formula 1, Marty's Daycare and Live Wire).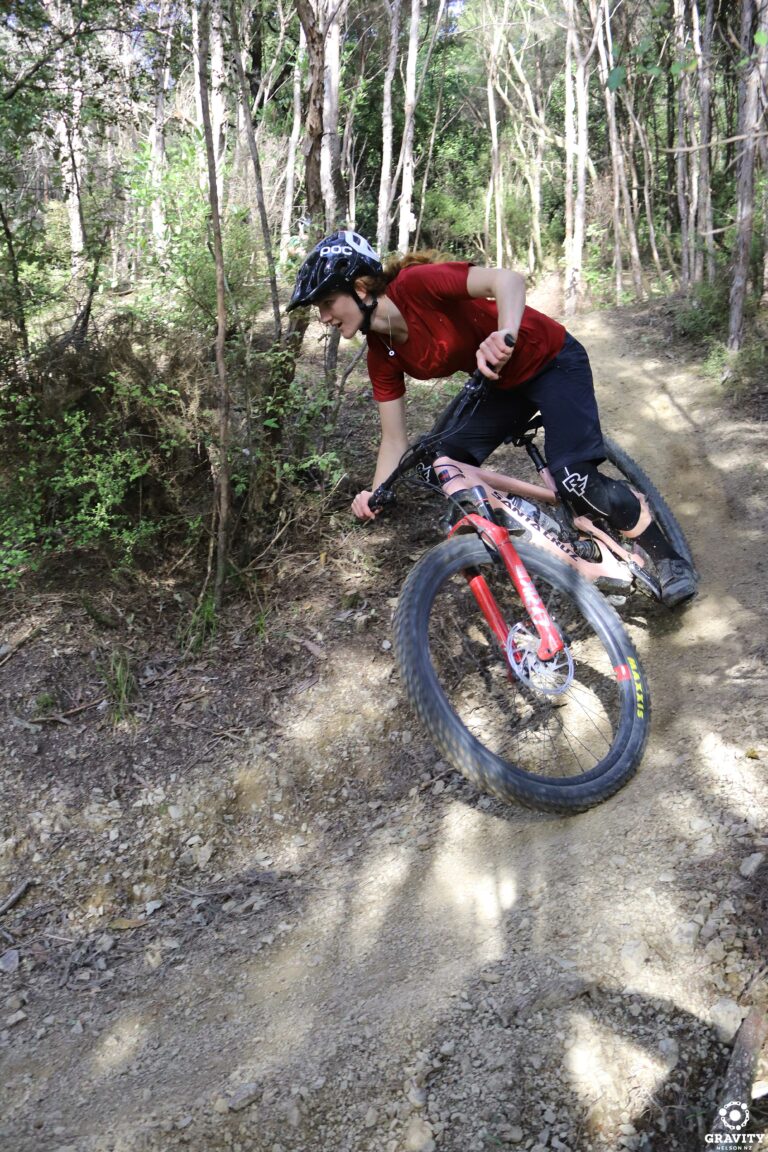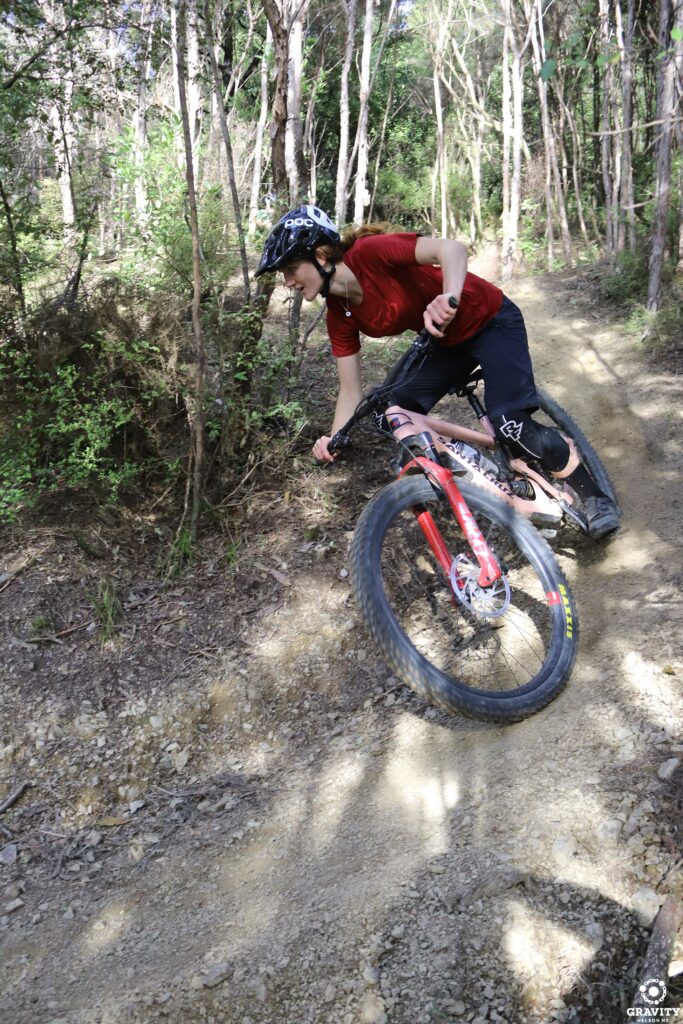 Advanced (grade 5) – One Day
Grade 5 trails is where Nelson really really shines, I mean the Grade 3 and Grade 4 stuff is good, but the Grade 5 trails are out of this world.  There are sooooooo many rad Grade 5 (&6) trails that you could literally spend a week or more here riding fresh trails here every day, and perhaps only repeat one or two favorites.
Option One:- Close to Town – Enduro Bangers.
Warm up on Grade 4 Te Ara Koa with a 5km long hand-built trail descending 700m vertical, that should get your eye in quite nicely, then back up the same hill for a run of Butters, definitely a step up in difficulty with some really iconic tricky "Nelson style" dropping corners).   for the tracks over at 629.  We drive over to the Maitai dam and then up to 629 hill, and start with Peaking Ridge, a 2.2km trail dropping almost 500m vertical down rooty chutes, features and fast flowy sections.  Collected from the bottom we drive back up to the top of 629 hill and look at doing a full 629 run top to bottom, an absolute classic trail with some real "moments", this trail shouldn't be missed.  Alternatively and when open again, we can head over to the Sharlands trails for a couple of technical enduro trials.  If it isn't too wet then Aorere is sure to delight with a combination of pine and native sections along its 4km length and 570m of descending. From here it is a toss up between tackling the techy Putakari for some hijinks mostly in the native trees, or the steeper and shorter Maitai Face featuring heaps of off camber dropping corners with tiny catches, with almost no grip in the wet, this trail has heaps of grip in the dry, If the group is of mixed ability then those who are slightly less brave can tackle Keyboard Warrior which starts from the same point.  You could do both Putakari and Maitai Face.
Option Two: – Close to Town – Dedicated Downhillers
If you bought the DH bike or just love pushing your enduro bike to the limit then we have the day for you.  Currently the only dedicated DH track in town is over to the top of Fringed Hill and FDH (Fringed DownHill) at 2.4kms long and with over 600m of vertical descent through a wide variety of native and pine this trail has something for everyone.   We can do multiple runs on this track and then head over to Cable Bay Adventure Park and tackle Pineline, or the DH track if it is open.  When Sharlands re-opens we can add on a warm up on something a bit easier, so Broken Axe is usually the go to, still definitely a Grade 5 DH track, it is relatively short for Nelson at only 1.5km and 350m of descent, this trail has jumps, flow, and tech for days.  With an easier and faster shuttle turn-around than many other Nelson trails it is easy to lap this out twice before heading a bit further up the hill to Kaka with 400m of vertical descent in 1.4kms this trail is steep, loamy, and challenging with many sections ridiculously fast and fun and a notable history as a national and Oceania DH track.  From there we scoot up the other side of the hill to tackle Maitai Face, perhaps with a detour on to Fourth Dimension on the bottom half.  Challenging, off-camber and very steep, and only a few jumps makes this for a wild ride. This day of DH should have tested bike and body thoroughly and it will be time to head home.
Option Three: Advanced Gorge days.
Advanced riders visiting Nelson will surely have heard of The Gorge, run by the Nelson Mountain Bike Club this private facility has incredible trails at all levels but is particularly famous for its Grade 4 and 5 trails, many of which are as hard or harder than similarly graded trails around the rest of the country. These hand-built trails have a special magic to them as they were constructed expertly by a huge team of dedicated paid trail builders with a generous budget.  Once you have done a day or two of riding in Nelson itself you should have a good idea of your level and can use our Trail Progressions table to select trails to tick off. The Gorge's new "Trail Flows" information sheet has excellent suggestions of flows that connect the best trails for your level, and the harder flows on the back should suit the Grade 5 riders as warm ups before the venture off to tackle infamous trails such as Stephen's Track, Redline, Dirty Deeds, and Bloody Priest.  Gravity can also shuttle at The Gorge, so don't hesitate to ask us about that option.  You can even rent accommodation at The Gorge and do two days in a row there.
Advanced – Multi Day
Wow, just wow, where to start.  So many options, but lets start with Day One: Option One:- Close to Town – Enduro Bangers, then Day Two: Option Three: Advanced Gorge days, probably worth doing a half-day the next day to recover a bit, so Day Three: swinging over to the Cable Bay Adventure Park to tackle their epic Grade Five trails Gamble, Jurassic, and Pineline should do the trick nicely, although they are so good you might end up doing them twice and not actually having a recovery day after all.  Next up on Day Four: throw in Nydia Track, a 24km long back country adventure not for the faint hearted with the trail featuring extensive sections of off-camber tree roots and technical moves, and almost 1300m of vertical climbing and descending.  This is a big day out taking most riders up to 7 hours to complete. Day Five: If we overnight in Havelock we can then look at doing a heli-drop onto the Wakamarina Track, another backcountry favorite through pristine native forest providing amazing riding.  The Heli-drop turns this into an adventure of a life-time and makes the trail considerably more rider friendly.  If the budget doesn't stretch to a heli-drop it is possible to do a vehicle shuttle to reduce the total ascent.  Either way the riding is otherworldly and the demanding hike-a-bike section part way through quickly forgotten.  There you go, five epic days, you are probably going to want a wee rest now… before we set you up with some more great riding.