CLICK HERE TO BOOK YOUR BIKE IN  
Our Workshop:
Gravity Nelson has grown up from humble beginnings repairing bikes out of a storage container where our priority was giving customers a friendly, non-judgemental, practical, efficient, and professional experience. We have now moved into a permanent shop store location with two full workstations as well as retail space for bikes and accessories but we have made it a priority to maintain those original ideals and philosophies that brought us our initial success.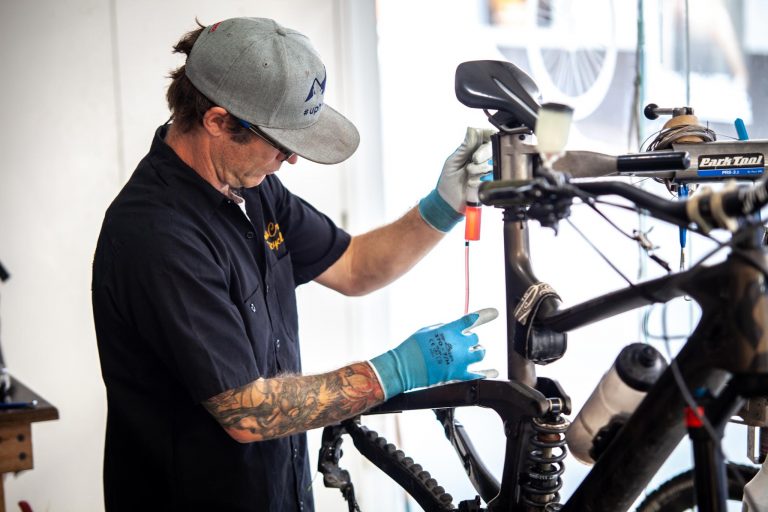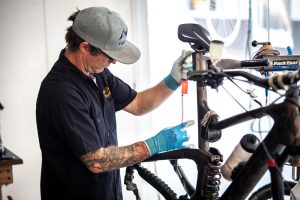 Our experienced and knowledgeable mechanics are truly experts at maintaining and repairing your bike. As well as being certified by the likes of Shimano, Sram, Rockshox, Fox, Santa Cruz, and Bosch to name a few, they are hard core mountain bikers and members of the mountain biking community. They ride to work on their bikes and understand that an inexpensive commuter bike is just as important as a state of the art E-bike with 180mm of suspension and 80Nm of power. So whether you just want a quick adjustment of your brakes so you can ride safely, or you need a tune up on your derailleurs, or your suspension is due for its routine maintenance, our mechanics will do whatever it takes to keep you riding. Or even strolling for that matter; we've been known to fix flat tires and tubes on carts, wheelbarrows, and baby strollers too!
With two workstations and a good inventory of parts, we can get your bike back up and running quickly.  Even in the busier summer months, it is rare we would need your bike for more than a few days. If time is of the essence, you can always schedule an appointment to bring your bike in for an even faster turn-around time. We work with many different parts and accessories suppliers in New Zealand such as Bearings And Engineering here in Nelson; in the event we don't have exactly what you need, we can special order it for you and have it within a couple days in most cases.
When your mouth starts feeling dry and you've run out of saliva from drooling over your dream bike build online; come see us. Full custom bike builds from the frame up are one of our specialties (you can check out many previous custom builds we have done HERE). We would love to help you pick out the perfect suspension, drive-train components, and brakes to fit your budget. And a pair of custom built wheels are the icing on your new bike cake. We'll do all of the tedious work of calculating spoke lengths and taking measurements to squeeze in the longest dropper post possible. Keep in mind that a custom build doesn't always add up to a premium price; piecing together your bike exactly the way you want it can actually save you money in the long run. 
New Zealand is a nation of DIYers and we definitely fall into that category; Gravity Nelson is here to support your DIY efforts with your bike too. If you are stumped with a brake bleed, bottom bracket, or your suspension pressures and rebound settings, feel free to stop in for a chat or ring us on the phone for some advice.  We always have a mechanic on staff to answer technical questions or take care of an easy on-the-spot job. 
To be honest, we are a bunch of nerds here at Gravity Nelson. We might specialise in mountain bikes but we love riding, talking about, and servicing all bikes. Road bikes, gravel bikes, cyclocross bikes, BMX bikes, commuter bikes, cross country bikes, trail bikes, enduro bikes, downhill bikes, e-bikes; you name it, someone here is really into it! And we are believers in the old adage that the only dumb questions is the one you don't ask. So pop in to kill some time, ask a question, or get a free repair quote. 
See you out on the trail!