Gravity Nelson's Electric Mountain Bike Rentals:
Gravity Nelson currently has three high quality full-suspension electric mountain bikes to choose from with more on the way.   These ebikes also serve as demo bikes if you are e-bike curious, or just want to test different motors or styles of ebikes.  Our ebikes can be booked by clicking on the BOOK NOW button on the top right of this webpage.  Nelson seems to be particularly well suited to an enduro style electric mountain bike. The steep hills here are tough going to climb, with many climbs being more than 500m vertical.  Riders from less "mountainous regions" probably don't have "Nelson fitness", so the E-mountain bike makes short work of them and turns a chore of a climb into a fun razz.  In addition, once you point them downhill these bikes are incredibly planted and stable with a low center of gravity making them very capable on Nelson's technical and flow trails.  In fact they are so much fun that I secretly suspect that the only people who don't like electric mountain bikes are only people who have never tried them!
Browse the rest of this page to learn more about each of the different rental ebikes we currently have in stock and for inspiration about the amazing trails you will be able to hit up riding one of these magnificent beasts.
Top Ten Reasons to Rent an E-mountain bike:
Gravity Nelson's rental ebikes are an excellent way to get introduced to the wonders of the modern e-mtb.  Whether you live in Nelson and want to try one out, or are visiting Nelson and just want to make the most of the trail network here, Gravity's rental ebikes provide a myriad of benefits, check them out below and in our short article HERE.
Time Starved:  The reality is that modern life is busy, and finding time to sneak out for a ride can be tough.  Even more so if you are tired from work and family and sometimes just don't have the energy to get out the door and face a one hour uphill for just 15-20 minutes of descending.  With an ebike you can fit in three or more times the number of trials in that spare hour and a half you have found, and you won't be exhausted at the top of the climb… making the descent more fun.  Simply not facing a daunting climb makes it that much easier to get out the door, have the endorphins and adrenaline kick in… and return home with a smile on your dial.
Less Fit or recovering from an injury:  An e-bike enables you to ride up hills like you were fitter, younger and injury free.  Simply a blessing for those of us who aren't in the best of shape at the moment, recovering from an injury, or not quite as physically young as we are young at heart.
Maximise descending and improve your descending skills:  With the ebike making light work quickly of the ascents, and not arriving with an empty tank at the top of the hill, you can focus on razzing the descents and fit in 3 or more times as much descending in the same amount of time.  The higher weight of the ebikes also helps improve your skills and strength as they require better timing, better technique and a bit more muscle to throw around on the descent… which means when you get back on your regular bike you will be stronger and more skilled which translated to faster and more fun descending!
Exploring: If you are new to a riding area and worried about getting a bit lost and struggling to get back to the car park, then the ebike can remove most of that stress so you can feel more free to explore a ride center and try new trails.  With a built in "up-lift" you can try new descents that might not have easy or short ways back.
Range extension: Get to places you normally couldn't in one day, or simply cover more ground in the same amount of time. Keen to tick off a 40km loop with 1000m of vertical ascent like the Coppermine Trail in Nelson… totally doable with an ebike.  Keen to ride every trail in Codgers mountain bike park in a day… totally doable with an ebike. Wanting to check out some more remote backcountry riding but not sure if you have the legs for it… totally doable with an ebike.
Pack rat: Want to pack more gear? now the weight doesn't matter.  Whether on a one-day ride where you want to pack an extra rain-coat, a picnic blanket and a bottle of wine, or on a multi-day ride and wanting to pack some extra yummy treats, now the electric motor takes the sting out of that extra weight on the ride.
Get fit: what? yes, ebikes can actually help you get fitter and stronger. How? strap on a heart rate monitor and set yourself some heart rate goals for the climbs, no matter which motor setting you are on, you can still work hard, and the extra speed from the motor assistance makes the climbs FUN… the sensation of speed just makes it so much more enjoyable, that's right, have fun while climbing, you might not even notice you are training hard because the climbing is so fun.  Just make sure to monitor those heart rate goals and you can have more fun training than you thought possible.
Level the playing field: Do you love biking but lose motivation because you are always being dropped by your mates and left behind? or alternatively are you super fit and you want a loved one to keep up with you and ride with you? Ebikes are here to help, if you are the slower one start riding an ebike and you can keep up with them while working on your fitness and skills.  If you are the fitter one, then buy your slower loved one an ebike so you can ride together and both enjoy it.
Get out the door: the sheer fun, and the reduced fear of the uphill translates into jumping on your bike more often and riding more often which helps immensely with mental health and physical well-being.
Personal shuttle: Gravity are big fans of shuttles to explore Nelson's trails, but its not every day you can get together a group to book a shuttle, or not every day that your schedule coincides with the shuttle schedule.  An ebike is like a private, personal shuttle with no timetable, no group minimums, and a completely flexible itinerary!
And of course once you've rented one and seen all the benefits, don't be shy about coming to us to have a chat about buying one !-)
Rental E-mountain bikes – Pricing:
Half day rental: $139
Full-day Rental: $199
Multi-day hires are available for three or more days with the first day priced at full-day rate and all subsequent days charged at the half-day rate.
Click HERE for some inspiration for what you could ride on an ebike rented from Gravity Nelson.  We have suggested loops for all levels of riders, accessible directly by riding out our shop door.
Meet the bikes:
"Bart" Small, Mondraker Dusk RR 2020
Bart is the newest edition to our rental/demo ebike fleet, and is rip-roaring fun.  With a Shimano motor and an integrated 630Wh battery, PLUS a clip-on  external 360Wh battery mounted onto a a frame featuring 150mm of rear travel and 160mm of front travel on 29er wheels, this bike is able to handle anything you throw at it and then some, plus go all day long.  Our staff have test ridden Bart on a wide range of trails around Nelson and we all agree that this is a super capable bike which inspires confidence and speed and leaves you with a big grin on your face at the end of the day.  This small frame has a low stand-over height making it ideal for shorter riders, but also features a longer top tube length making it quite comfortable for riders at the shorter end of the medium frame range.  With almost twice the battery power of many other ebikes "Bart" gives you range to head out into the back-country with confidence.  Riders looking to hit multi-day rides like the Heaphy or the Old Ghost Road who are planning on carrying a bit of gear will find that "Bart" can last the distance, and potentially we could even rent you an extra clip-on battery to further extend your range.
"Benji" Large Mondraker Dusk RR 2021.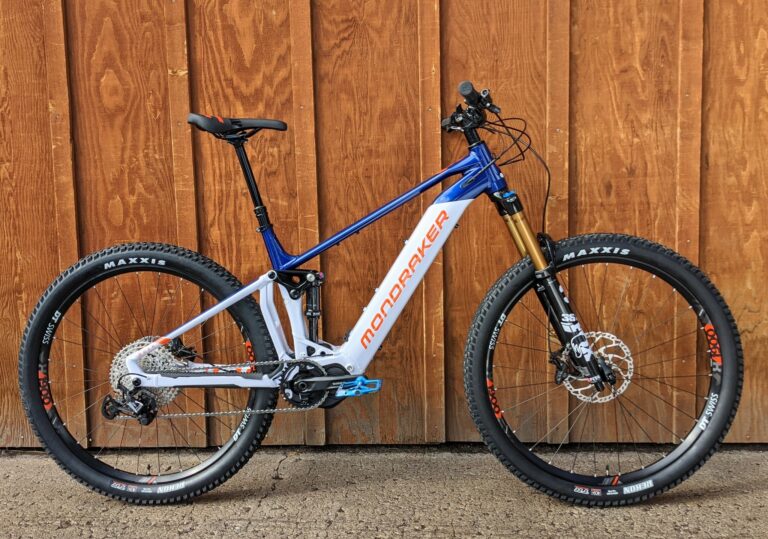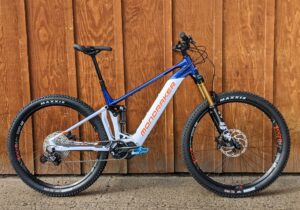 "Benji" is our large electric mountain bike rental, with a low stand over height he fits most riders used to a Large frame, but with a long top-tube riders who normally ride an XL will also be comfortable.  "Stanley" is powered by a Bosch motor and has a 600Wh internally battery providing heaps of power and range.  150mm of rear travel and 160mm of front travel combined with Mondraker's Zero Growth suspension system and beefy tires means "Benji" can handle even the toughest of Nelson trails but is equally comfortable to ride less technical trails like the Coppermine loop.
Now that you have met our bikes, BOOK NOW by clicking the button on the top right of the webpage or Click HERE for some inspiration for what you could ride on an ebike rented from Gravity Nelson.  We have suggested loops for all levels of riders, accessible directly by riding out our shop door.