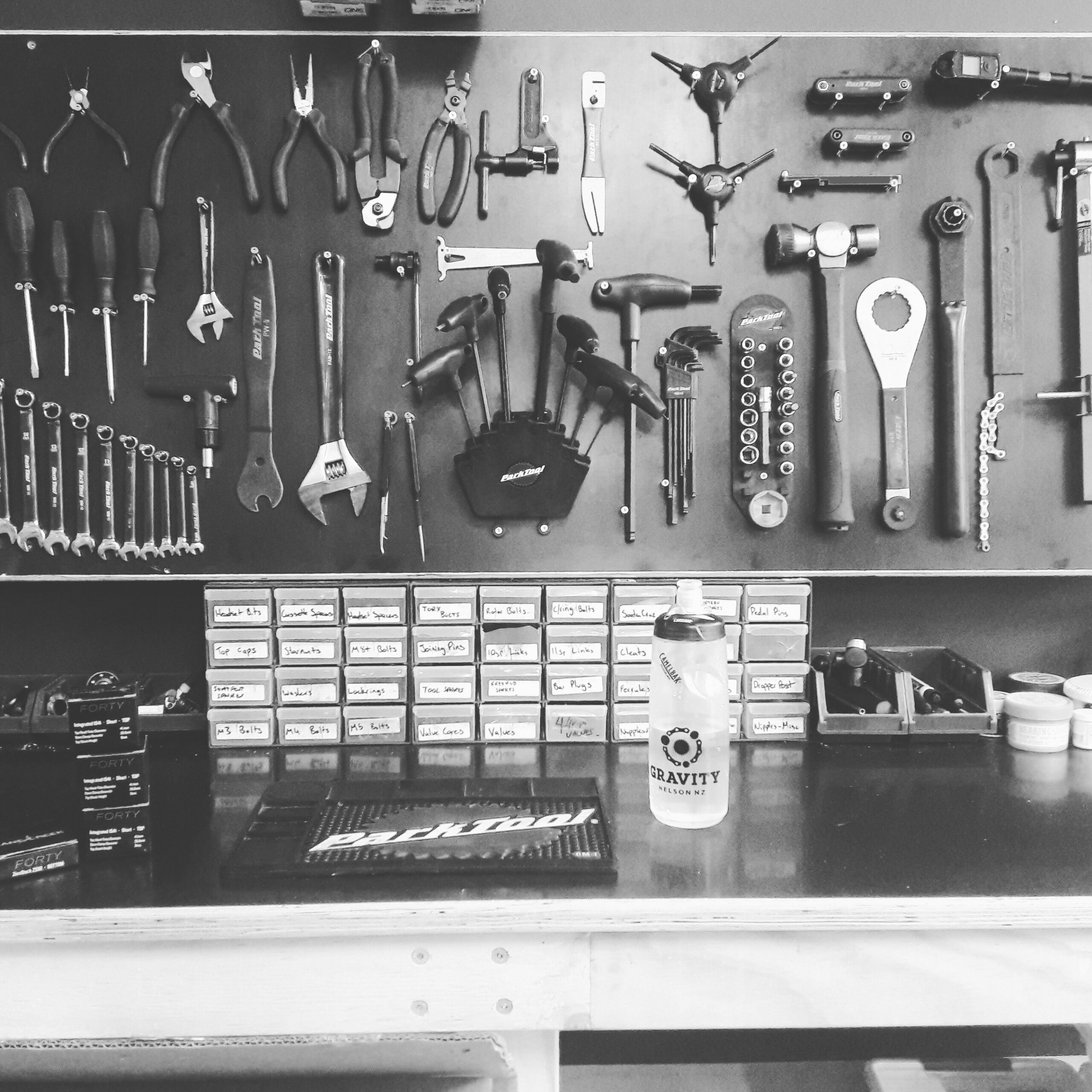 Our workshop is very conscious of the impact it has on the environment. Cycling as a whole has significant opportunities to make a positive impact on the environment, whether it is from commuting to work by bike rather than car, or simply biking to your mountain bike hub rather than driving there. Mountain biking can be a means to enjoy the great outdoors and build peoples appreciation for our natural world, but the sport can also create a lot of waste. We do everything we can to minimise the negative impact we have on our environment.
Recycling:

– RUBBER: Actively recycling used/old tyres and tubes to keep them out of landfill, free for people to take and use as they please. Many a happy grom has found a great tire with plenty of life on it in our recycle pile.  We've even seen ear-rings made out of the used inner tubes in the recycle pile.

– METALS: We keep all worn out bike parts out of landfill by putting them in separate bins, this not only allows us to re-use small parts that may still have some use, but we can also separate steel and aluminium alloys and recycle them every few years. Some parts have even found their way into upcycling projects including sculptures and race tropheys.

– PLASTICS: We are constantly checking our single-use plastic consumption and doing what we can to minimise this. ie. Bulk supplies of workshop chain lube, brake fluid (DOT and mineral oil) and tyre sealant significantly reduce the amount of plastic the workshop creates.
– OIL: We capture all used synthetic and natural oils in recycling containers and take them to NELMAC for processing.
         – CARDBOARD: All cardboard is recycled by NELMAC at our local recycling centre
Other Initiatives:

– REFILLS: Gravity offers a number of refill options for customers at cheaper prices than new packaged goods.  Bring your oil chain lube bottle in and refill at half the price of a new bottle.  We are also investigating other bike related products which can be refilled.

– SECOND HAND BICYCLES: Gravity sells all of its rental bikes annually to make way for newer bikes, enabling customers to buy high-quality used, well maintained bicycles at a reasonable price.  Gravity also assists customers to prepare and sell their used bicycles at fair prices when they are ready to upgrade.

– CAN DO: The Gravity mechanics pride themselves on being non-judgmental and super helpful with any bicycle that comes through the door, often finding miracle fixes for obsolete parts on older bicycles and assisting all budgets of riders to squeeze more years out of their trusty commuter bicycle, touring bike, road bike or mountain bike.

If you have any suggestions of other environmentally friendly initiatives we could undertake at our workshop please send us a message, we are keen to hear from you.