Group Mountain Bike Coaching Sessions
Gravity Nelson offers a wide variety of one-off and multi-session Group Coaching Sessions.  These sessions work out slightly cheaper than Private Bespoke Sessions and are an excellent way to advance your skills at an affordable price with a fun bunch of like-minded mountain bikers, a great way to meet new riding buddies.
If you would like to check-out the upcoming group coaching courses scheduled over the next two months you can click the link HERE.   You can also contact us directly if you are interested in us running a course on another topic.
To inspire you we have listed some examples of the kinds of courses we run below:
Tackling Technical Terrain: Four part progressions on increasingly technical trails designed to soon have you riding rocks, roots and more technical corners with confidence and control.
Mega Mid-week MTB'ing Mums! (and Dads): Five part series aimed at covering all the base skills including body position, braking, cornering, pumping, jumping, line choice and more.
Queen of the Mountain Level 1 (QOM1): Four part series specifically for lady riders covering progressing your cornering skills.  Our goal is for women to feel more comfortable and confident on the trails, and meet other women to ride with. The welcoming, no-stress energy from a huge group of women all out on the mountains improving their skills and gaining confidence is a very unique and energising feeling and sight. The creators and coaches of this program continue to refine the program to suit the needs of the women registered. There is no ability requirement – whatever level you are at, we can adapt to that, although everyone is expected to go at their own pace, and only do what they feel comfortable with.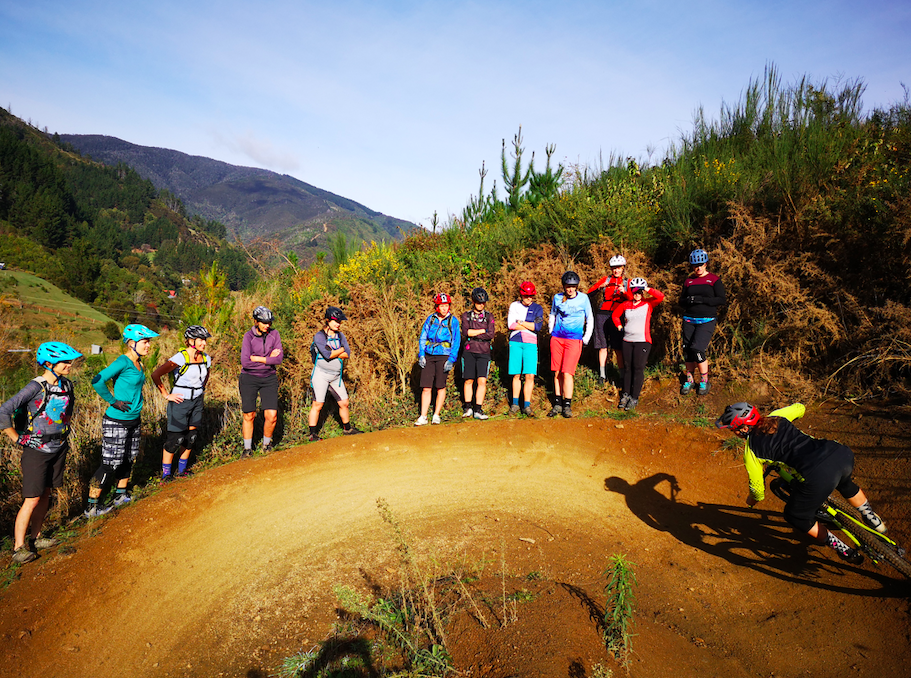 Sendy Sundays Level 1 or Level 2: One off sessions to progress your drops and jumping at our private Field of Dreams facility.  Level 1 is for first timers or those with only a little bit of experience, Level 2 is a follow up session or one for riders with a bit more experience getting some air under their tires but wanting to take it to another level.  With a bit of practice you might soon be jumping like the Gravity Development Squad Kids!
Flow Cornering Level 1: If you're new to MTB'ing or just want to correct old habits, come and join us for Level 1 flow cornering. A fun session starting with the basics and helping you develop the muscle memory to progress your riding.
Flow Cornering Level 2: A cornering session for more experienced riders (or those who have already completed level 1) wanting to ride corners with more speed and finesse, or to gain more control and confidence through steeper/tighter turns.
Prepare to be Awesome: These four part progressions focus on a single topic and assist Intermediate level riders to improve their skills so they can tackle more advanced trails.  The last session of the series usually involved tackling a grade 5 trail to test your new found skills.
Essential E-bike Skills Course:  This course covers a number of important technique differences to consider when riding an E-Bike compared to a regular mountain bike. We aim to solve many of the most common complaints and struggles of new e-bike riders (not new to mountain biking, new to e-bikes) by dialing in the techniques that will assist with the weight, geometry and power of e-bikes. If you do not own an E-bike but are E-curious, we have rental ebikes you can hire at a special rate during the course.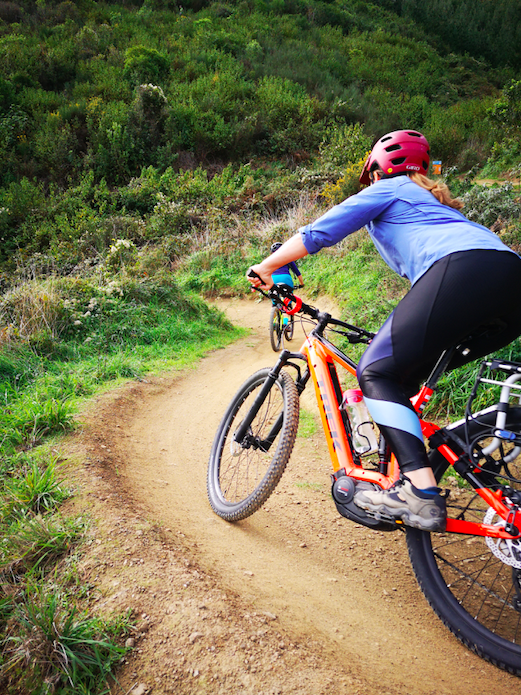 If none of these courses match what you want, then check out our Private Bespoke Coaching Sessions HERE.
If you would like to check-out the upcoming group coaching courses scheduled over the next two months you can click the link HERE.   You can also contact us directly if you are interested in us running a group course on another topic.
Are you interested in becoming a part-time mountain bike coach? Gravity Nelson is currently looking for individuals who would like to get trained up and qualified as mountain bike coaches.  Gravity Nelson's founders Alistair and John bring an enormous amount of experience and passion to the role of coach trainers and mentors and can help you achieve your dream of becoming an expert mountain bike coach.  Alistair is a trainer and assessor for New Zealand's two mountain biking qualifications through Skills Active and NZOIA and can guide you through the process of getting qualified as you work for us.  Email us on info@gravitynelson.co.nz if you are interested in learning more.