Gravity Nelson is super excited about how its mountain bike coaching sessions have taken off, and that success is no doubt in part due to the extensive experience and qualifications of our coaches, plus our unique "bespoke, inclusive, enthusiastic, progressive and supportive" approach to mountain bike coaching for all levels and styles of riders.
The Gravity Nelson core coaching team consists of Alistair Matthew, John Butler, Ben Ertl, Jo Perrott, and a number of junior coaches as well as guests coaches including Brady Stone, Loui Harvey and Jess Harvey.
Below is a small outline of the mountain bike riding and coaching background of some of the members of our team:
Alistair "El Jefe" Matthew: Mountain Biking in New Zealand and around the world for more than 27 years, founder of GravityBolivia.com on Bolivia's infamous "Death Road", 20+ years of guiding and coaching mountain biking.
PMBIA Level 1 qualified (http://www.pmbia.org/courses/level-1/),
NZOIA Level 2 senior instructor (https://www.nzoia.org.nz/qualifications/disciplines/mountain-bike),
Skills Active Mountain Bike strand of the Outdoor Leadership Certificate (Level 4 Instructor, Level 5 Guide, Level 5 Instructor, and Level 6 Instructor… yes, all of them … how's that for a mouthful) refer: http://www.skillsactive.org.nz/news-and-events/news/mountain-bike-assessors-hit-the-tracks/.
Alistair also holds several first aid qualifications including Pre-Hospital Emergency Care  and multiple workplace one day first aid courses (including mountain bike and volunteer fire brigade specific courses).
Alistair specializes in:

Cornering clinics for all levels of riders
Drops clinics for beginner to intermediate riders
"Mountain biking myth correction" for experienced riders
Mountain bike squad youth development programs
e-mountain bike sessions (introduction, intermediate and advanced)
Parent and child sessions
"Freelap" based advanced high-tech timing system based coaching
Kinematics video analysis of body position and technique
Confidence building mtb psychology, body position correction, and safe progression sessions for riders who feel stuck at low to mid Intermediate level
John "Baby Face" Butler: John has guided, coached, built trail, ridden and raced around the world including Chile, Bolivia, Colombia, Whistler, and New Zealand for far more years than his baby face suggests. His qualifications include:
Whistler's in house coaching course (Pre-PMBIA) Level 1 and 2
Cycling New Zealand Accreditation
John specialises in:

Intermediate to Advanced jumping, pumping and drops
Advanced cornering on challenging terrain
Riding Technical terrain
Back country riding
Jo Perrott: Originally from Wales, Jo discovered mountain biking after coming to NZ to travel many moons ago! With a background in swim instructing, she got into coaching MTB about 5 years ago here in Nelson. She has since spent a couple of seasons over in Canada, coaching and riding in Whistler. Jo loves riding and racing bikes, with an emphasis on having as much fun as possible! She's raced many of the local DH and Enduro events over the years, and more recently, the last 3 Whistler Enduro World Series races; winning a Gold Medal in 2019.
Her qualifications include:
PMBIA Level 1 and 2 MTB Instructor

Canadian Red Cross First Aid/CPR/AED

Commercial Aeroplane Pilot
Jo specializes in:
Body position, pumping and cornering: beginner to intermediate.
Sessioning new trails intermediate to advanced.
Building confidence, facilitating learning and developing skills in a safe progression.
Riding and exploring in different locations.
Queen of the Mountain women's courses
Gravity Racer Gurlz and Gravity Intermediate Girls youth coaching
Jo has a calm and patient coaching style, with clear and easy to understand explanations. She loves coaching riders of all levels from absolute beginners to budding racers.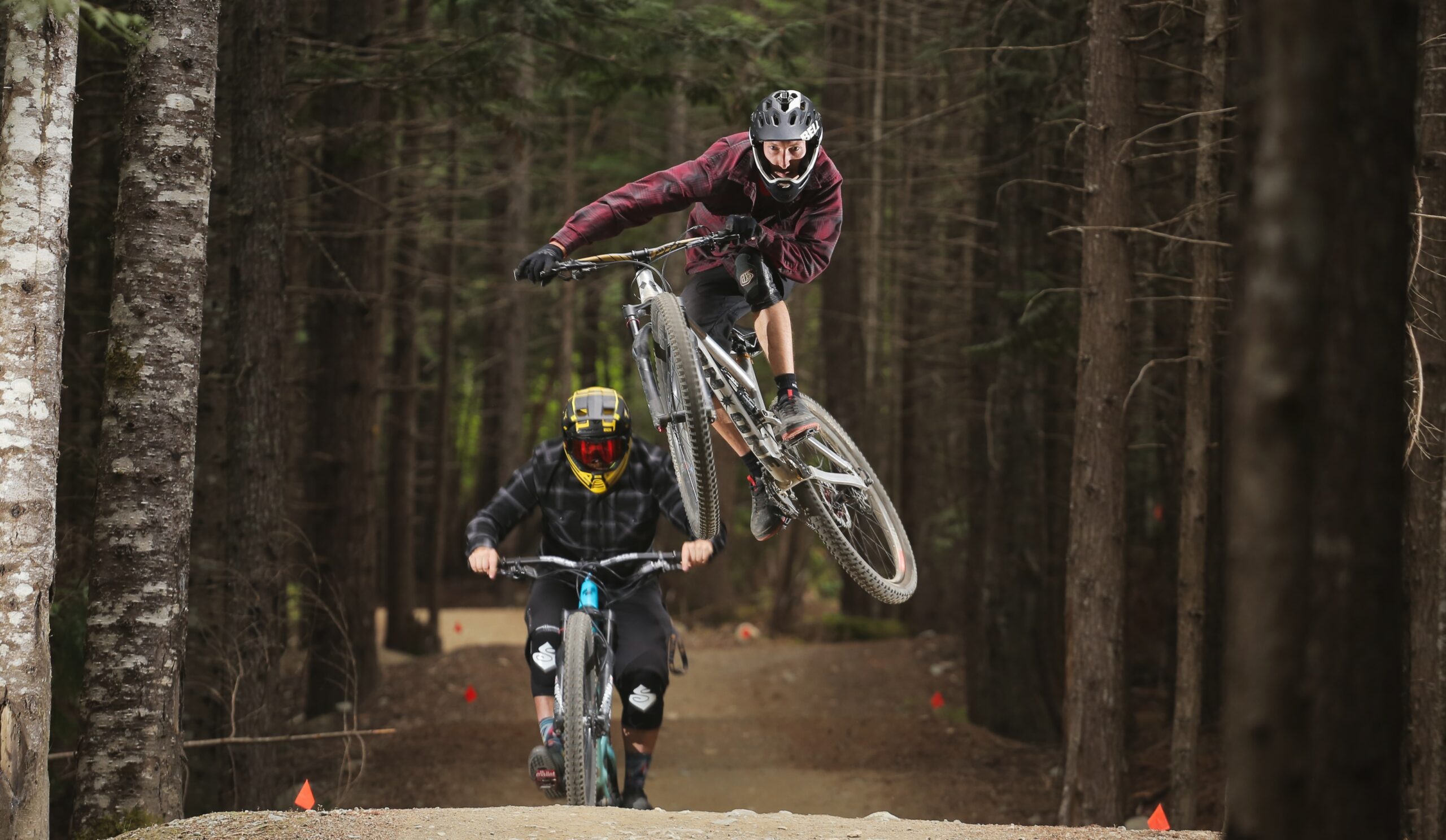 Ben "Bertl" Ertl: Hailing from the UK, Ben has guided and coached in Turkey, Greece, Canada (Whistler) and New Zealand and loves to just get out and ride trails, he's at his happiest blasting down a new trail. His qualifications include:
Ben specialises in:
Intermediate to Advanced jumping, pumping and drops
Beginner to Advanced cornering
Intermediate to Advanced flow or technical line choice
Breaking down challenging trails or features from intimidating to achievable
Check out Ben's Instagram @Bertlbikes