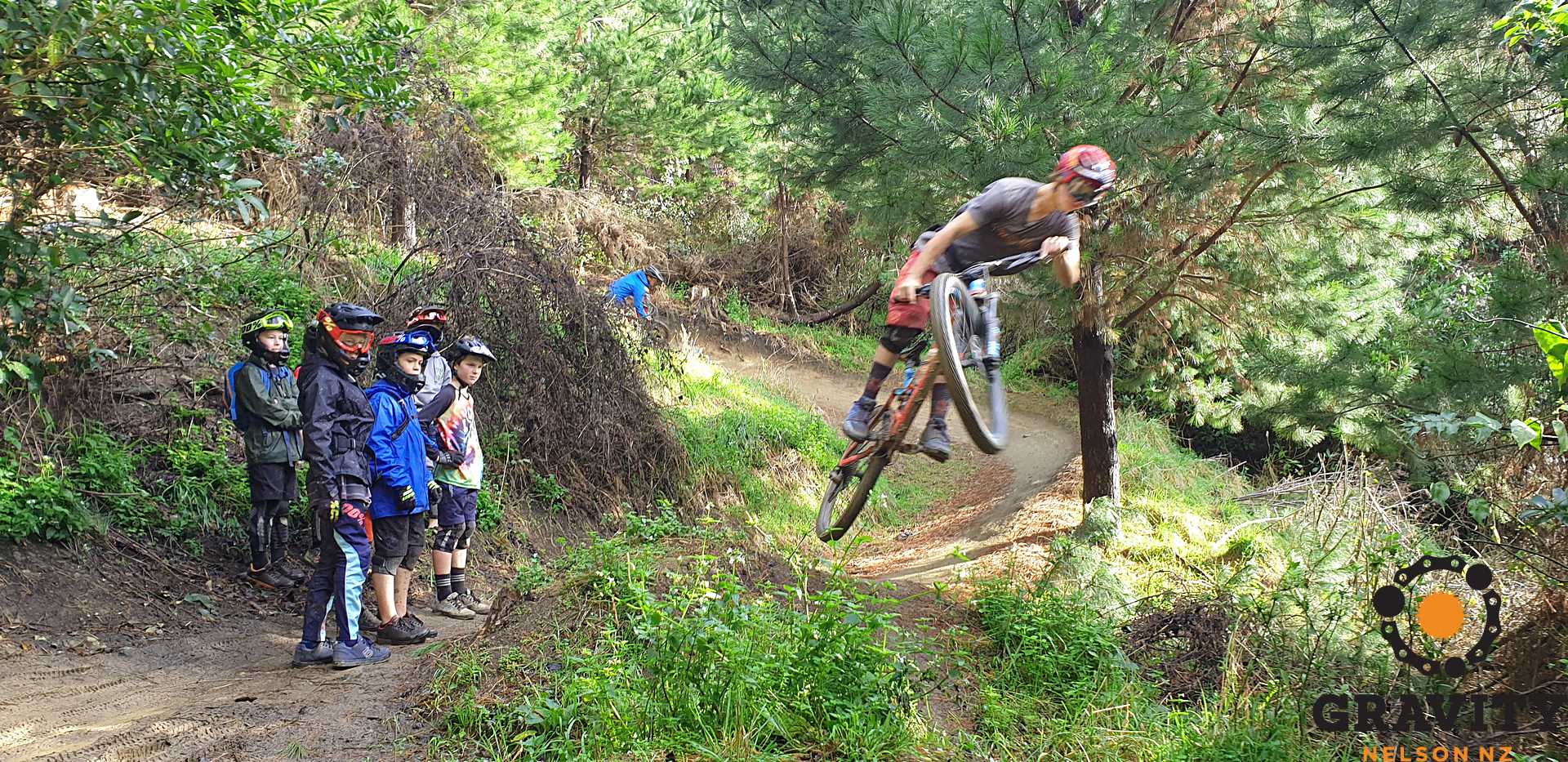 Is your business/organisation (or a business/organisation you know of) interested in financially supporting the development of youth mountain biking in the Nelson region? Please read on and pass a link to this page on to friends or family who you think might be interested.
The 40 second version:
The Gravity Development Squad youth mountain biking program has grown rapidly in the last five years; developing the skills, safety and confidence of a large number of riders from 8-17 years old in the Nelson region.  Opportunities are now available for Corporate Sponsors to assist our continued growth through a wide variety of levels of sponsorship packages. In exchange Sponsors stand to positively associate their brand with this high profile program in mountain biking mad Nelson, and directly and significantly assist the development of youth mountain bikers. This email outlines the successes of the program, the opportunities to support it, and the exposure a sponsor will receive.
Background:
The last five years has been an exciting period of growth for Gravity Nelson's coaching program the Gravity Development Squad.   We are thrilled to see the amazing progress participants past and present have made in their mountain biking skills.  Seeing the kids grow up through the program and advance to confidently racing at a variety of events as well as sending it big on the airbag has been a real thrill.  Looking back at photos from five or more years ago and how little the kids were, and now seeing them on podiums as big kids is very rewarding.  However it isn't all about sending it big or getting podiums at races, many kids have gone from nervous beginners to confident and regular riders, tackling trails at Cable Bay and the Gorge, and even imparting what they have learned to their friends and family, that is hugely rewarding as well.
We have been able to keep developing the program through constant innovation and adoption of new ideas, equipment and techniques.  We are also excited about the development of past and present coaches and look forward to continuing to develop New Zealand's mountain bike coaching future.
Our investments in the coaching program include annual expensive insurances and concessions, training and qualifications, wilderness first aid certification, industry association subscriptions and conferences, sponsoring the mountain bike club, annual health and safety audits, and of course equipment such as:
Our radios for coaches and support vehicles and our PRB: for improved communication and safety
The Gravity Air Bag Experience: for progressing the kids more safely in their aerial antics: thanks to our initial sponsors: Juicies, Pomeroys Coffee, Tineli Clothing, Abbott Insurance, and Renovate Me.
The Freelap timing system for fine tuning line choice and understanding of the effect of techniques on overall speed.
Continued investment in building at the Field of Dreams.
Camera, drone and Gopro equipment for recording all the action and editing up videos.
We could not have invested in these without the continued support of parent's such as yourselves and a number of corporate sponsors.
Looking forward to the remainder of 2022 and into 2023 we have plans of further expansion of the coaching program and development squad into a national level resource for developing mountain bike riders and coaches, we hope to eventually be able to offer residential camps for kids from around the country to come and ride in Nelson and fine-tune their skills.  This will in turn further enable us to continue improving our Development Squad after school program for local kids.
Expansion and Improvement:
Expanding and improving the coaching program further does require additional investment and in order to avoid increasing participation costs we are reaching out to corporate sponsors to help us invest in a wide range of possible assets for our expansion program.  In exchange we hope to highlight the support those businesses give us through shout-outs on our:
Facebook channel: Month ending 23rd May 13,094 reach.
Instagram channel: Month ending 23rd May 13,330 reach.
Youtube channel: 4113 views in the year to 23rd May.
plus email newsletters, brochures, webpage etc.  Which expand in reach every year.
Because we understand that every business/organisation has different financial means we  are more than willing to accommodate any size of financial support, and are offering this current round of sponsorship promotion for the remainder of 2022 and all of 2023.   Sponsors can elect to put their money towards specific items and receive recognition specifically for that item, or provide a lump sum that we can put towards our "wishlist" for expanding the program:
A Wishlist for future expansion: 
Additional radios
Extra PLB
Additional Freelap chips and timers
Durable Building materials for FOD
Digger or digger time for FOD
Installation of shade sail at FOD
Agility training kits
Speed gun
Additional Enhanced rapid response first aid equipment
Additional video and photography equipment for producing videos and video analysis of riders
the "Field of Nightmares"?
A foam pit? A flat air bag? A bigger airbag?
Larger protective mattresses for GABE?
what else? What do you suggest?
Levels of Support of the Gravity Development Squad for a year (this time though it is for 18 months):
Grade 3 supporter: $365+
Grade 4 supporter: $730+
Grade 5 supporter: $1095+
Grade 6 supporter: $1500+
Just Send It: $CustomAmount
Scholarship Support – are you interested in offering some term or year-long scholarships for kids to join the Gravity Development Squad? Get in touch and we can design a scholarship program to suit your budget.
Contact us by email on info@gravitynelson.co.nz to discuss the support level that is right for your business/organisation.
Thank you very much for taking the time to read through this and we look forward to hearing from you.
All the team from Gravity Nelson
—
"Get the dirt on mountain biking in and around Nelson, New Zealand!"
Gravity Nelson LTD
Website: www.gravitynelson.co.nz
Shop Now: shop.gravitynelson.co.nz
03 545 8484 or 027 766 6032
Facebook.com/GravityNelson
Instagram.com/gravitynelsonnz
YouTube.com
140 Bridge Street, Nelson,7010