Gravity Nelson proudly offers Santa Cruz Nomad mountain bikes for its rental fleet, these are the finest rental bikes available in Nelson!  We have them available in a variety of sizes and we will set up your brakes and suspension to suit you before your ride.  All our bikes are not only specifically set up for Nelson's great trails, but they are also "Gorge Ready", so if your own bike isn't quite up to smashing out a day at the Wairoa Gorge, contact us and beat up one of our bikes instead!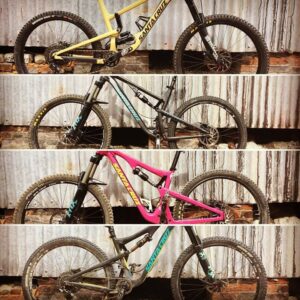 "Get the dirt on mountain bike riding around Nelson"
Brits Callum and his buddy David took out one of our Santa Cruz Bronson's and smashed out this great little video
Fantastic full-suspension mtb rentals:
Santa Cruz Bronson/Nomad: Half-day $89 / Full-day $159
All bike rentals are specifically set up for you and the Nelson trails, and include free Kali helmet rental. Knee protection is available at a small charge.
Our ex-rentals are also now available to buy! Check it out: https://gravitynelson.co.nz/fleet-renovation-ex-rental-santa-cruz-bronsons-now-available-to-buy/
You can find us at:
140 Bridge St, Nelson.
You can also contact us via:
Phone: 027 766-6032
Ride on!
Gravity abides: Gravity donates 1% of all sales to the trails