Big news: We now have 3 Mondraker Crafty XR+ E-Mountain Bikes in our renal fleet!  We have a limited selection so please get in touch to make arrangements.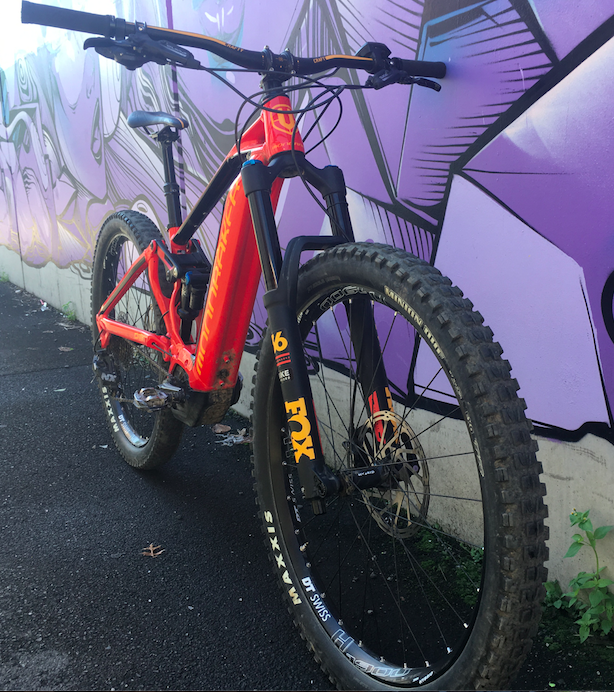 Full-day rentals are $199, and half-days are $139.  For an example on what you can do on these bikes have a read: HERE.
Nelson seems to be particularly well suited to an enduro style E-mountain bike. The steep hills here are tough going to climb, especially for many riders who don't have "Nelson fitness", the E-mountain bike makes short work of them and turns a chore of a climb into a fun razz.  In fact they are so much fun that I secretly suspect that the only people who diss electric mountain bikes are people who have never tried them!
Riding an E-mountain bike takes some getting used to as they weigh considerably more than a high end Enduro bike,  however, by carefully tuning the suspension, and riding it more aggressively, riders are going to have a lot of fun.  Trails like "Te Ara Koa" which have a massive road climb (over 800m vertical) can be tackled quickly and you will arrive at the top having had a work-out, but not exhausted.  You can then hit the downhill warmed up, yet fresher and have way more fun.  Using an E-mountain bike is a great way to tick off many of Nelson's iconic trails when a shuttle is not available, and you will be fresher at the top of each and every climb!  Even the new p51 trail is made easier with an E-mountain bike, with a bit of practice you can flick the bike to Turbo mode, and monster up the brutal fire-break push!
Another great reason to rent an e-mountain bike would be to tackle more scenic rides like the Coppermine loop, when you are lightly injured, feeling unfit, or worried about completing it quickly enough.  The Mondraker Crafty XR+ will provide all the assistance you need to make this incredibly scenic 40km loop (with almost 1000m of vertical climb) a breeze, and get you back to town in 3 hours or less (… or more if you want to take your time to enjoy the views).
Your only real risk in renting an electric mountain bike … is that you might end up wanting to buy one. They are so much fun, and make the climbs so much more enjoyable.  After all, at the end of the day its better to have an exhausted battery, than an exhausted rider!