Along with our private coaching sessions, Gravity runs a variety of group MTB coaching programs for adults and youth. These sessions are a great way of meeting other people to ride with, and see many different styles of riding which is great for learning. Offered at a more affordable rate, these sessions are slightly less personalised due to the larger coach to participant ratio. Remember, we also do one-on-one and private coaching!
Here are some of our most popular group programs:
Gravity Development Squad (YOUTH)
Gravity runs weekly after-school and weekend coaching for prep- and college-aged students during each school Term. Currently, we have a Monday group for Intermediate riders, a Thursday group for Advanced riders, and a Sunday group of mixed ability riders. These groups have between 6 and 14 riders per group. Each session is 2 hours long. The topics vary depending on the ability, and focus of the group. Examples of topics include: cornering on flow and techy terrain, pumping and jumping, line choice, and manoeuvres such as wheelies, manuals and endos. We even run over the Winter term, although students must have a bright helmet light and warm clothes. (Winter riding in Nelson is actually so good). We also have a small group of Expert youth riders, mostly (but not limited to) an interested in racing, who run with a more flexible schedule (1 or 2 sessions per month) and longer sessions (3 hours).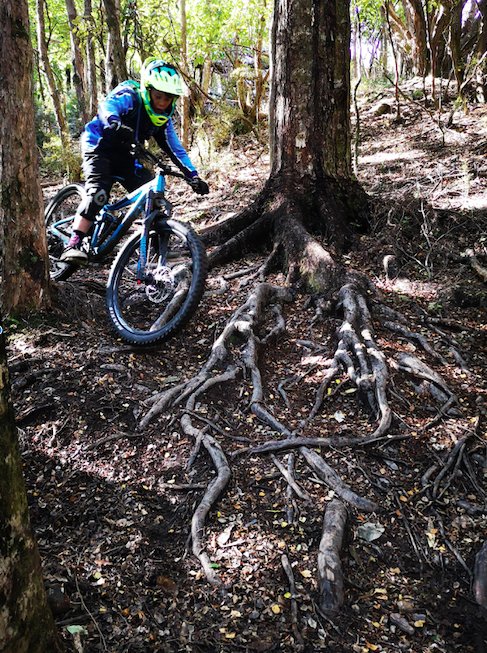 Gravity Grom Squad (KIDS – ages 8-12)
We are preparing a group youth program aimed at younger kids (kids just coming off the excellent Krankin'Kids program). This group will be a weekly 2-hr program, introducing the kids to new skills and different trails, but not as intense as our older youth groups.
Please get in touch if this is something your young one is looking for.
School Holiday Camps (YOUTH)
Our "Gravity Development Squad" after-school program runs the same time as the school terms, so what happens over the holidays? You guessed it: MORE RIDING! To keep the kids active over the holidays, we run 2- and 3-day "camps" which involve a longer day of riding (usually 4-5 hours), at a slower pace, catered to the kids specific goals. These camps require each kid to bring lunch, and in the summer months, togs if they are keen to jump in the river after the ride!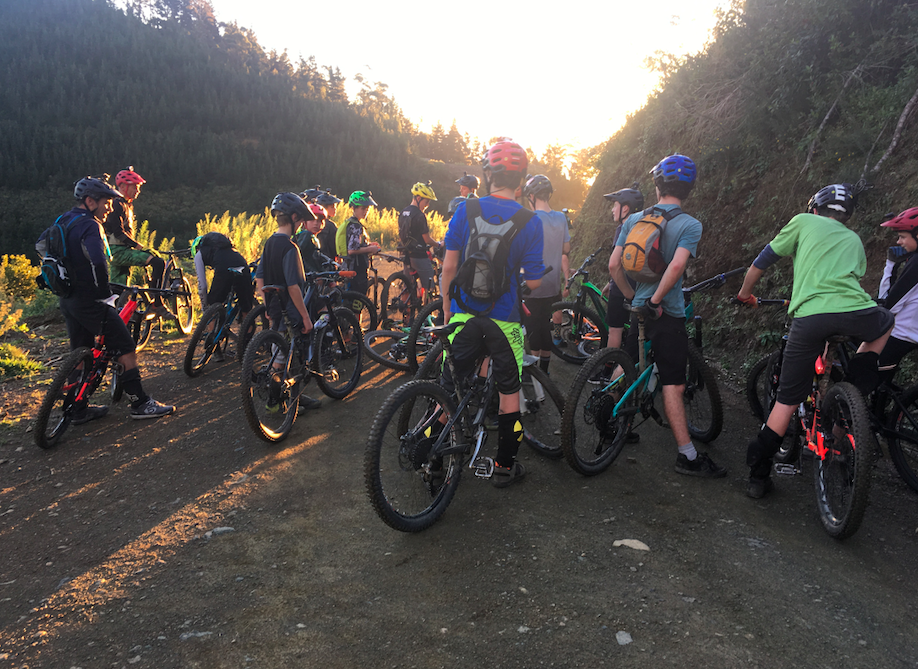 Queens of the Mountains (WOMEN)
QOM runs as FIVE 2-hour session weekly-bi-weekly. Our goal is for women to feel more comfortable and confident on the trails, and meet other women to ride with. The welcoming, no-stress energy from a huge group of women all out on the mountains improving their skills and gaining confidence is a very unique and energising feeling and sight. The creators and coaches of this program, Skye and Christine (aka Mazzy), continue to refine the program to suit the needs of the women registered. There is no ability requirement – whatever level you are at, we can adapt to that, although everyone is expected to go at their own pace, and only do what they feel comfortable with.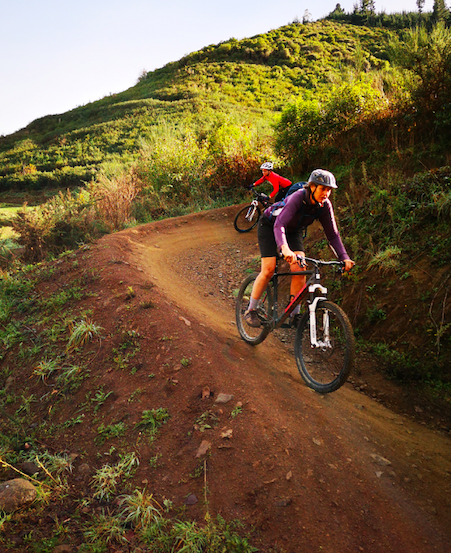 The 5 topics we focus on are Body Position & Cornering on flow terrain, Cornering on technical terrain (rocks and roots), Bike Mechanics (brakes), Drops & Jumps, and an Introduction to riding more advanced trails.
Our next round of QOM programs will roll out late Aug/Sept. If you would like to register or join our contact list, send a message to info@gravitynelson.co.nz.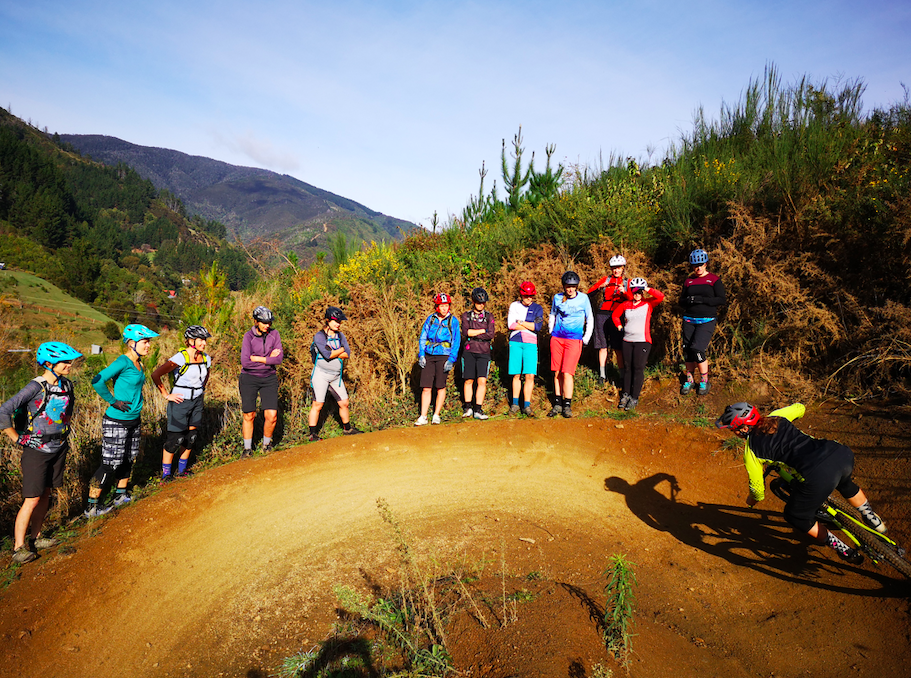 Prepare to be Awesome (ADULTS)
Prepare to be Awesome is an adult coaching program (usually 4 weeks of 2-hour sessions). We have done a program for Corners and a program for Drops and Jumps. These are groups of 10 with one coach at different locations every session to apply skills to all types of trails. We plan to run more of these PTBA courses over the next few months. Give us a shout to be on our contact list!
E-Bike Coaching Clinic
This course covers a number of important differences to consider while riding an E-Bike compared to a regular mountain bike. We aim to solve many of the most common complaints and struggles of new e-bike riders by dialling in the techniques that will assist with the weight, geometry and power of e-bikes. If you do not own an E-bike but are curious, we have 3 E-Bike rentals here at our shop.
$200 for FOUR 2.5-hour sessions.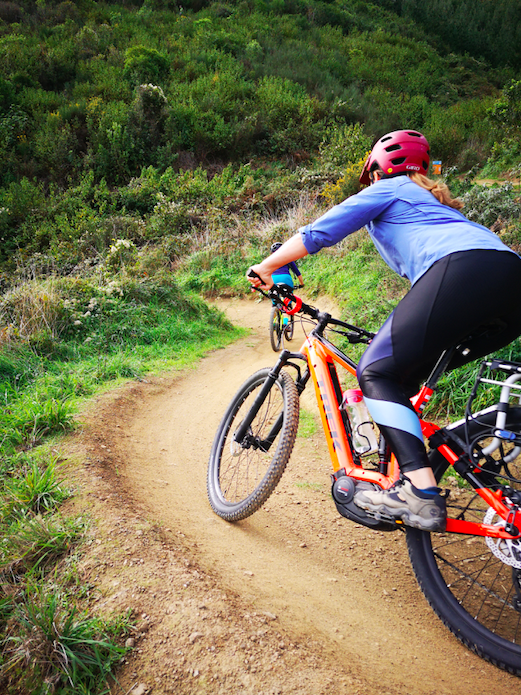 If you would like to know more information or register for any of these courses, please give us a call at 03 545 8484 or 027 766 6032 or send us an email at info@gravitynelson.co.nz.