Alistair Matthew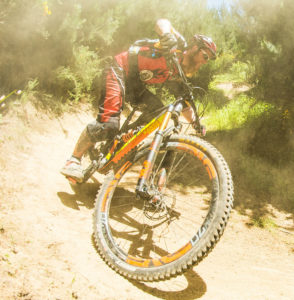 Chief facial hair officer and craft beer connoisseur.
Adventure tourism pioneer eyes Nelson's potential as mountainbike Mecca
Alistair Matthew has an adventure tourism business and wants to see Nelson develop it's Mountainbiking trails, and facilities as a tourist asset.
Adventure tourism pioneer Alistair Matthew spent two decades building Bolivia into a mountainbiking destination. Now he is back home with high hopes for Nelson but says the region has much to do to live up to its potential. Stu Hunt reports.
Alistair Matthew's thinking about Nelson hinges largely on one concept – the bucket list.
For the uninitiated the bucket list is a mental list of things people want to achieve before they "kick the bucket".
Matthew has just returned to New Zealand after 18 years in Bolivia running mountainbike company, Gravity Assisted mountainbiking , which plied its trade on The World's Most Dangerous Road.
Matthew says he worked hard to get riding that road on travellers' bucket lists and now that he's living in Nelson he's very keen to see one or more of Nelson's attractions, and especially its mountainbiking , elevated to the same status.
"Is there something that people are going to say I'm going to Nelson because I want to tick that thing off?"
READ MORE:
* Nelson's trails among world's best 
* Unsung heroes of track building
* Spectacular trail good for Nelson 
* Club confident over Wairoa Gorge management plan
Matthew says if he asks Nelsonians 'I'm going to Nelson what are the three things I must do while there?' a lot of them stare blankly back at him.
"It should be on the tip of our tongue."
"It worries me a little that there's nothing standing out like that at the moment, it could become the anchor around which people build a trip."
Matthew says its a similar concept to bragging rights. What is a person who visits Nelson going to brag about when they're standing around the water cooler back home after their trip?
"If they're a mountainbiker I want them to say I did this three days of incredible riding on better trails than I've seen in a year of riding in Auckland, you'd never believe it and then we went to this great restaurant, and the micro breweries were amazing and the relaxing wine tour was out of this world.
"If people were having this type of conversation after their trip to Nelson I think we'd be well on our way to really taking tourism in Nelson to the next level. But at the moment I don't think Nelson has enough of a focussed identity and that's where I see the opportunity."
Matthew sees one of the region's greatest strengths is its passion for, and sense of community around, cycling and he sees Nelson as being on the cusp of something big.
"It's about to blow up as a national and international cycling destination. It's not if but when."
"Things like the newly announced Nelson Mountain Bike Club Wairoa Gorge initiative are only going to further put Nelson on the map for mountain bike tourists."
He describes the lack of facilities at trail hubs such as a bike washing area, toilets, signposts and shelters, as embarrassing given how many people are coming to the region to ride.
"Its not obvious how to maximise enjoyment of the riding as choosing and finding the right trails to ride is not intuitive or easy."
Matthew has already had an audience with Nelson mayor Rachel Reese and Pete Rainey, while he was running for mayor, to give an an outsider's perspective on the burgeoning biking scene in Nelson.
His advice to both of them was, rather than commit money to yet another expensive strategic study to determine the most significant opportunities from a tourism revenue perspective, take it as read that cycling and mountainbiking would safely be in the top three and more likely than, say, water sports or entertainment to hold the number one spot.
"The trickle-down is incredible – the cycle related traveller spends 40 per cent more than any other traveller.
"If they've had a hard day on the bike they feel justified in treating themselves. They'll have that extra beer, they'll have a slightly nicer meal, the accommodation will be slightly nicer because they'll be knackered at the end of the day.
"And the people that come here to cycle also do other things. So businesses offering complimentary activities and services like massage, sea kayaking, wine tours etc also benefit."
Matthew says that so much passionate work has already been done, now its just a matter of putting the icing on the cake.
"Its asking the question what can we do over the next couple of years to really take it to the next level."
Original article is located here, please check out the link for all the great photos:
http://www.stuff.co.nz/travel/destinations/nz/85145450/making-nelson-a-mountainbiking-mecca
From Bolivia to Nelson: Kiwi mountainbiker who conquered the "Road of Death" returns home
Alistair Matthew has set up an adventure tourism business in Nelson.
When Alistair Matthew first moved to Bolivia he knew four words of Spanish he'd gleaned from kids cartoon Speedy Gonzales.
But by the time the pioneering mountainbiker moved back to New Zealand last year after 18 years in Bolivia, his Spanish was a little more robust.
The thrillseeker called Bolivia home for nearly two decades  after setting up the first mountainbike company that had the cojones to tackle one of the world's most dangerous roads.
For the uninitiated the Yungas Rd, ominously dubbed El Camino de la Muerte or the Road of Death, is a perilous stretch of track clinging to the hills between Coroico and La Paz.
Built by Paraguayan prisoners, during its worst years an estimated 200 to 300 travellers a year lost their lives on the road.
Back in 1994 a much more clean-cut Matthew was working as a management consultant when he had what he describes as his early midlife crisis.
He took some time off to find himself. He packed his bike for Bali but what was planned as just a year out turned into a three-year cycle tour of south-east Asia.
However, having still not found what he was looking for, he decided to tackle South America and singled out Bolivia as his first destination.
"What appealed to me about Bolivia was how raw it was.
"It had this level of chaos and excitement and lack of infrastructure that I'd been looking for in a travel destination. Everywhere else seemed to be too developed.
"The adventures I'd heard from uncles who had travelled to places like Nepal in the 70s – that level of adventure wasn't available. Bolivia still had that."
He was eager to pursue business opportunities there and figured that since Bolivia was the least developed country in South America there would be the most opportunity. If he failed the next place could only be easier.
There were a lot of advantages for a small business person – he knew his market well and it only cost him $420 a month to live there.
"So I could afford to take a punt."
Originally he thought he would work for an adventure tourism company and, for a time, worked for a mountaineering firm but it didn't really work out.
In the meantime he did a lot of bike riding and it occurred to him as he rode why was no one running a bike riding company?
"I had a sneaking suspicion that there was maybe someone with some bikes doing something every now and then but nothing commercialised. There were no posters and nothing in the guide books."
He settled on the idea of doing the Road of Death. He bought three more bikes, hand-made some posters, got three takers and Gravity Assisted Mountain Biking was born.
"It really clicked with people. At the time there was nothing much to do in Bolivia. People weren't spending any time in Bolivia because there was nothing to do and there was nothing to do because all the local business people thought no one wanted to stay in Bolivia."
He attributes that in part to the perception that Bolivia was too unstable and dangerous. The fact that the country went through 17 presidents in 8 years lends some weight to that theory but Matthew is quick to point out that it is a safe place to travel.
"Bolivia seems more fierce than it is. It's not that any one is shooting at you and its not that you will die."
"Petty theft can be a problem but overall the country is safer than many other destinations."
But because of the political situation Matthew says that psychologically the people in Bolivia were pretty scarred and its reputation suffered.
Matthew saw some distinct advantages in that as well.
"As a country it was so raw and so rough it definitely wouldn't appeal to a $200 a day tourist but would to a $50 a day backpacker or adventurous traveller.
"If a $200 a day tourist gets tear-gassed in the street, or an eight-hour bus trip takes three days they're going to tell people not to go there, but if that happened to a $50 a day adventure traveller, they're going to go 'that was awesome' and have a great story to tell."
"For the adventurous tourist it's fantastic because finally you're getting those stories you want when you get home. You can't get that at Disneyland. Bolivia was like the final frontier in adventure tourism."
Matthew endeavoured to bring an ethos from NZ adventure tourism, do it safely and with proper systems, training and gear.
"It might be relatively expensive but you do it right and it'll create a market. And that's what I did."
In the first six months Matthew had 386 people on his rides. Last year they took 12,000 people. Now 30 different companies ply their trade on the road and something like 60,000 people rode the road last year.
"It's really created something special."
Matthew puts his success down to being in the right place a the right time and preparation meeting opportunity.
Initially Matthew tried to find other tourism operators that would benefit from his business. He began approaching hotels to see if they wanted people to stay for longer. Only three or four were willing to entertain his ideas so he formed an alliance with them.
He asked them who their accountant was, who their lawyer was – sat down and talked with them about what worked and what didn't and built up the infrastructure in that way.
He says that in Bolivia he had to compete with a lot of infighting and guarding their slice so taking a more positive approach to growing the whole market really helped.
In the first 12 months he hired a mechanic, people who could guide with him and built up his fleet.
"Initially I had to chase foreign cycle tourists down the street to buy their bikes because there wasn't anyone importing bikes but by the end of the 12 months I formed a relationship with Kona and started importing their bikes."
He formed a relationship within an eco-tourism company as their adventure tourism arm.
He says it was easy to scale up but he did not want to borrow money. However, because of the low living costs he found he didn't need to take a lot of money from the business – if made just $420 a month he broke even.
Of course there was the small matter of Bolivia being one of the three most corrupt countries in Latin America so Matthew had to account for what he euphemistically describes as "user-pays" which was handled by his lawyer. On the plus side he says formal tax rates there are lower than elsewhere.
It's estimated that about 27 cyclists have died on the road as guides or customers since 1998 and Matthew says he has tried in vain to get all 30 competitors together to agree on some safety regulations but to no avail. He says the process was always sabotaged.
"If a baseline safety level was put in place I guarantee at least 25 of the existing companies would struggle to meet it."
He prides himself on his own safety record with only one death due to a heart attack out of 100,000-plus customers.
"If you ride sensibly with guides that give you good instruction on good gear then you don't need to die."
"We prefer to call the road the 'World's Most Dangerous Road' not 'The Death Road' as when you get to the bottom and no one's died you're not getting you're money back." he jokes.
As well as the bike tours, Gravity Assisted also has its own hostel, a zipline and an urban-rappelling operation "where we throw tourists out of the 17th storey windows of a 5-star hotel".
These days Matthew sports the sort of beard that drifts sideways in the breeze.
And when he talks about mountainbiking its with a level of energy and conviction that's hard not to get swept up in.
He's moved back to New Zealand
with his wife and two sons, and is enjoying the level of safety home brings.
"In Bolivia kids live behind walls, there's always someone with them, you wouldn't send your kids down to the dairy by themselves."
Due to its enthusiasm for all things cycling, Nelson seemed the obvious choice.
He said he was impressed about Nelson and how passionate people were about the cycling scene and he sees it as being on the cusp of something big nationally and internationally.
"There's a real sense of community around cycling here."
As for his his future plans, he spent three months in Bolivia riding and looking for opportunities, so he's doing something similar here or as he calls it auditing the local riding assets.
Original article is located here, please check out the link for all the great photos:
http://www.stuff.co.nz/nelson-mail/85060339/From-Bolivia-to-Nelson-Kiwi-mountainbiker-who-conquered-the-Road-of-Death-returns-home